Eyewear is compulsory for All District junior events

2017 HEAD Grand Prix – Open to all Juniors under 19
Features 5 Tournaments throughout the 2017 season
Masterton Open 28-29 April
Hutt Valley Junior Open 2-4 June
Khandallah Open 23-25 June
Kapiti Juniors 1-2 September
Wellington Junior Open @ Mana 8-10 September- series final
For each Tournament that a Player enters they will receive 5 points for entering. 3 points for winning each match and 1 point for losing a match. Therefore if a Player wins all matches they will receive maximum of 9 points for matches won & 5 points for entering = 14 points. 8 points is the lowest a player can earn, 1 point for each loss + plus 5 for entering
2017 9hundy and below Series
Updated points as at 15th April 2017 9hundy points table master after MB
J grade & below for boys and 900 grading points and below for girls)
This series is held on Sundays is to encourage new junior players into competitive play. Players must be 900 grading points and below as at 1st March 2017. Cost to enter each one day tournament is $5
May – Players are ranked in their current age-group and are not included in multiple age-group lists
Under 11 Boys

Oliver Dunbar – Wellington
Reece Holmes – Central District
Matthew Growcott – Canterbury
Jack Frisken – Canterbury
Cassius Leevey – Central District
Hayden Turner – Northland
Liam Smith – Waikato

Theo Gannon – Wellington

Jakob Brenssell – Otago

Eoin Ryan – Wellington

Zac Pattison – Canterbury
Oscar Crowe – Otago
Riley McCracken – Auckland

Luca Siegel – Wellington

Ryan Griffith – Wellington

Finn Goodson – Auckland

New affiliated member: Steven Symonds – Midlands

Under 11 Girls

Maia Smales – Auckland
Leah Mee – Midlands
Anabel Romero Gemmell – Central District
Saara Joukani – Auckland

Mackenzie Tait – Wellington

Emily Vanderweg – Midlands
Sophie Barton – Auckland
Memphis Willoh Junior – Auckland
Hayley Rhodes – Northland
Olivia Anstis – Wellington
Grace Spencer – Auckland
Kaianne Henare – Auckland

Kyra Wyeth – Wellington

Erica Jenson – Waikato
Aishah Lotfy – Auckland
Isla Sweeney – Central District

New affiliated members: Katherine Gallagher and Cara Bowker – Midlands


Under 13 Boys

Mason Smales – Auckland
Apa Fatialofa – Auckland
Freddie Jamieson – Northland
Noah Thomas – Auckland
Tom Marshall – Canterbury
Ryan Ko – Canterbury
Jacob Dudley – Southland

Nathan Lucock – Wellington

Charlie Prince – Canterbury
Campbell Griffin – Northland
Maz Saunders – Northland
Liam Gale – Canterbury
Jack Lamb – Canterbury
Joel Kennerley – Bay of Plenty
Flynn Venmore – Northland
Liam Direen – Midlands

 

Under 13 Girls

Natalie Sayes – Auckland
Sophie Hodges – Waikato

Dora Galloway – Wellington

Ella Lash – Auckland
Rakairoa Joyce – Eastern
Petra Curd-McCullough – Canterbury
Moriya Karati – Canterbury
Alyssa Davy – Waikato
Caitlin Millard – Canterbury
Sophie Bell – Central District

Hannah Dunbar – Wellington

Te Kiriwai Murphy-Fell – Bay of Plenty
Brooke Cornish-Madden – Southland
Gemma Thompson – Otago
Chelsea Traill – Northland
Maia Kelly – Waikato

Under 15 Boys

Leo Fatialofa – Auckland
Elijah Thomas – Wellington
Riley-Jack Vette-Blomquist – Northland
Tarin Love – Auckland
Ben Tomlinson – Auckland
Kunli Zhang – Auckland
Joe Smythe – Bay of Plenty
Sam Kelly – Waikato
Braedyn Henderson – Waikato
Ben McCurran – Bay of Plenty
Nathan Briggs – Canterbury
Soloman Lewis – Otago
Devlin Gurr – Northland
Stephen Garner – Midlands
Paul Moran – Canterbury
Scott Butterick – Canterbury

 

Under 15 Girls

Georgia Fyfe – Auckland
Jena Gregory – Eastern
Alexandra Harding – Eastern
Renee Dudson – Bay of Plenty
Samantha Harding – Eastern
Dileesia Henare – Auckland
Manaia Jade Peeti – Bay of Plenty
Ruby Saies – Auckland
Katie Templeton – Bay of Plenty
Martha Toghill – Otago
Ariata Kutia – Eastern
Leonie Marshall – Canterbury
Anna Moselen – Northland

Nyah Mar – Wellington

Nadia Karati – Canterbury
Pippa Saunders – Northland

Under 17 Boys

Matthew Lucente – Auckland
Gabe Yam – Auckland
Temwa Chileshe – Waikato
Anthony Lepper – Auckland
Glenn Templeton – Bay of Plenty
Willz Donnelly – Eastern

Kobe Fleming – Wellington

Keidah Bungard – Midlands

Campbell Webster – Wellington

Logan Webber – Waikato
Manaia Murphy-Fell – Bay of Plenty
Jordon Bell – Central District
Richard Bell – Central District
Dylan Budge – Central District

Brad Goldsworthy – Wellington

Mitchell White – Bay of Plenty

Under 17 Girls

Kaitlyn Watts – Central District
Anika Jackson – Waikato
Rhiarne Taiapa – Eastern
Winona-Jo Joyce – Eastern
Ruby Turnbull – Canterbury
Amara Afghan – Auckland
Annmarie Holst – Northland
Annaleise Faint – Central District
Georgia Robcke – Waikato

Charlotte Galloway – Wellington

Anna O'Connor – Southland
Leah Hodges – Waikato
Hayley Carson – Waikato
Tenika Dudson – Bay of Plenty
Hayley Carson – Waikato
Grace Allen – Canterbury

Under 19 Boys

Finn Trimble – Northland
Lwamba Chileshe – Waikato
Mitchell Kempton – Southland
Rafa Yam – Auckland
Quinn Udy – Canterbury
Michael Shelton-Agar – Auckland
Corbin Faint – Central District
Angus McDonald – Waikato
Regan McNaught – Otago
Sean Dykes – Bay of Plenty
Caleb Madden – Otago
Liam McDonald – Waikato
Akil Afghan – Auckland
Ryan Montgomery – Auckland
Te Aorangi Murphy-Fell

John Allan – Wellington

Under 19 Girls

Anna Hughes – Auckland
Nadia Hubbard – Bay of Plenty
Camden Te Kani-McQueen – Bay of Plenty
Courtney Trail – Central District
Zoe Dykzeul – Northland
Emma Cormack – Canterbury
Kiriana Andrew – Canterbury
Iyra Stewart – Bay of Plenty
Holly Keen-OLeary – Waikato
Ruby Beresford – Canterbury
Taylor Clarke – Bay of Plenty
Kelsey Manuatu – Auckland
Gina Bailey – Central District
Amelia Wadsworth – Canterbury
Lauren Vodanovich – Auckland
Rosemary Mair – Eastern
2016
Head

series
Final of the Head series was decided over the weekend at the Tawa Junior Open. Thanks to all that participated (150+) over the entire series, the host clubs and all the parents, coaches and supporters.
The top 9 are listed below
1st Eoin Ryan (Mana) …
2nd Cass Attree (Mana)
3rd = Aimee Woodall (Mitchell Park)
3rd = Sophie Paterson (Mana)
5th Levi Hawkins (Mitchell Park)
6th = Tegan Bennik (Mitchell Park)
6th= Louis Craig (Khandallah)
8th= Mac dean (Tawa)
8th= Maiden Ellis (Mana)
Pictured is Eion Ryan the overall HEAD series winner and all he got to take home. Well done champ!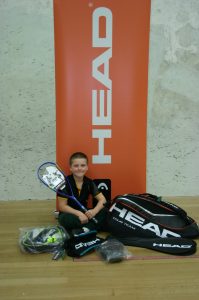 ——————————————————————————————————————————————————————————————-
Eyewear is compulsory for All District junior events
Features 5 Tournaments throughout the 2016 season
Wellington Junior Open @ Mana 8th-10th April
Upper Hutt Junior Open 17th- 19th June 
Wairarapa Junior Open @ Red Star 15th – 17th July
Kapiti Junior Open 19th-21st August
Tawa Junior Open (And final) 9th-11th September 2016-head-series-points-table
For each Tournament that a Player enters they will receive 5 points for entering.  Wins a match + 3 points…… Loses a match + 1 point (based on min 3 matches). Therefore if a Player wins all matches they will receive maximum points, 9 points for matches Won & 5 points for  entering = 14 points. 8 points is the lowest a player can earn, 1 point for each loss + plus 5 for entering. 
2016 Junior Interclub
Congratulations to

Mana

who are the

2016 Wellington Junior Interclub Champions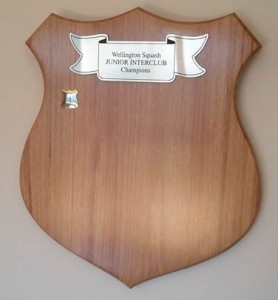 Final points table in link below
In the individual standings, Theo Gannon (MA) and Aimee Woodall (MP) hung onto their spots at the top to take away the boys and girls MVP awards.  Congratulations to you both
Overall we had 105 kids that gave interclub a go this year, which bodes well for the future of our sport.
Pictured below- Mana Juniors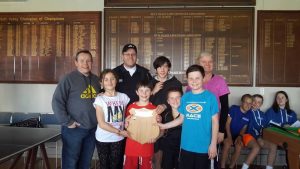 9 Hundy & below

(J grade & below for boys and 900 grading points and below for girls)
This series is held on Sundays is to encourage new junior players into competitive play. Players must be 900 grading points and below as at 1st March 2016. Cost to enter each one day tournament is $7, players will play 3 x 20 minute games.
2016
City/Kapiti Final points – 2016 City-Kapiti Zone 1 final points table
Congratulations to Justin Applegate  from Tawa for winning zone
2nd- Oliver Dunbar, Khandallah
3rd= Akaash Morar, Tawa & Alex Chalaron -Rogers, Mitchell Park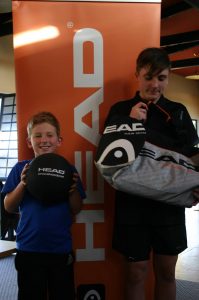 Oliver Dunbar and Justin Applegate
HUTT ZONE
Final Points Hutt-Zone-Final points
Congratulations to Blake Randall from Mitchell Park for winning zone
2nd- Levi Hawkins, Mitchell Park
3rd – Louis Craig, Khandallah
from right; Louis Craig, Blake Randall and Levi Hawkins
Final points Wairarapa Zone final points
congratulations to Claudi Hawkes from Red Star for winning zone
2nd- Cayden Cameron, Red Star
3rd – Missy Howard, Red Star
Congratulations to theses players that have been selected for the Wellington under 13 Development Squads
First training Wednesday 13th July at the Mitchell Park Squash Club
| | | | |
| --- | --- | --- | --- |
| Mitchell Park | Khandallah | Mana | Martinborough |
| Blake Randell | Louie Craig | Eion Ryan | Mark Steventon |
| Levi Hawkins | Hayz Davis | Theo Gannon | Emma McLeod |
| Molly Hawkins | Hannah Dunbar | Sophie Paterson | |
| Jairus Ngrimu | Oliver Dunbar | Angus Paterson | |
| | | Maiden Ellis | |
| | | | |
| Upper Hutt | Red Star | Masterton | Tawa |
| Nathan Lucock | Claudia Hawkes | Makaia Sutton | Paige Goodall |
| | Chelsea hawkes | | |

2016 Junior Rep Programme
Junior Selectors; Nick Mita, Gareth Fleming and Willie Bicknell
Junior Convenor: Gareth Fleming
Team Wellington Junior Elite Squads for 2016
2016 Squad:
Boys: Scott Galloway, John Allan, Tohe Wanoa, Harrison Bolt, Kobe Fleming, Cameron Phillips, Mac Dean, Campbell Webster, Brad Goldsworthy and Liam Goldsworthy
Girls: Charlotte Galloway, Emma Conaghan, Milly France, Grace Hymers, Diana Galloway, Alani Dalrymple mortleman, Olivia Lucock and  Madi Davies
Thanks to  for their continued support of our programme